News: Fall 2022 wellness menu by Clarins
Dr Olivier Courtin-Clarins and Executive Chef Filipe Bastos Da Assunçao have created an invigorating colourful menu for vitality this September.
To encourage the summer sea breeze onto the plate, they have selected responsibly sourced Isigny salmon which has little fat and firm flesh. To intensify the flavours of this exceptional fish, the fillets are prepared raw and the leftovers are used to make stock. Left to marinate in nutty camelina oil, a taste that runs through the menu, the salmon is enhanced with samphire salt and various seaweeds enhancing its salty taste. Slices of salmon are then laid on an al dente quinoa salad, taboulé-style with fresh mint, soft dried apricots and fire-roasted dates – a nod to the new Multi-Intensive creams – rounding out the caramelised notes of the camelina. Served cold with date chutney, slices of jalapeno and a few pickled rowan berries, this radiant dish is brought to life with touches of lime, evoking the refreshing feeling of a walk by the sea and inviting you gently into autumn.
"In my opinion, choosing extremely high quality salmon is crucial. That's why I love Isigny salmon. It's perfect for making a crudo, and also tataki, simply add a marinade to bring out the flavours. From a nutritional point of view, I wanted to add a good dose of omega 3 by serving the salmon with camelina oil. In addition, I've switched salt for samphire salt, which is made by drying out and crushing the plant. The salty notes complement the iodised flavours of the salmon. I really like this natural combination evoking the sea. I also like the idea of reworking the recipe for taboulé and replacing semolina with quinoa, a gluten-free pseudo-cereal that's an excellent source of protein and fibre, seasoned with dry fruits that are rich in fibre and minerals." Dr. Olivier Courtin-Clarins.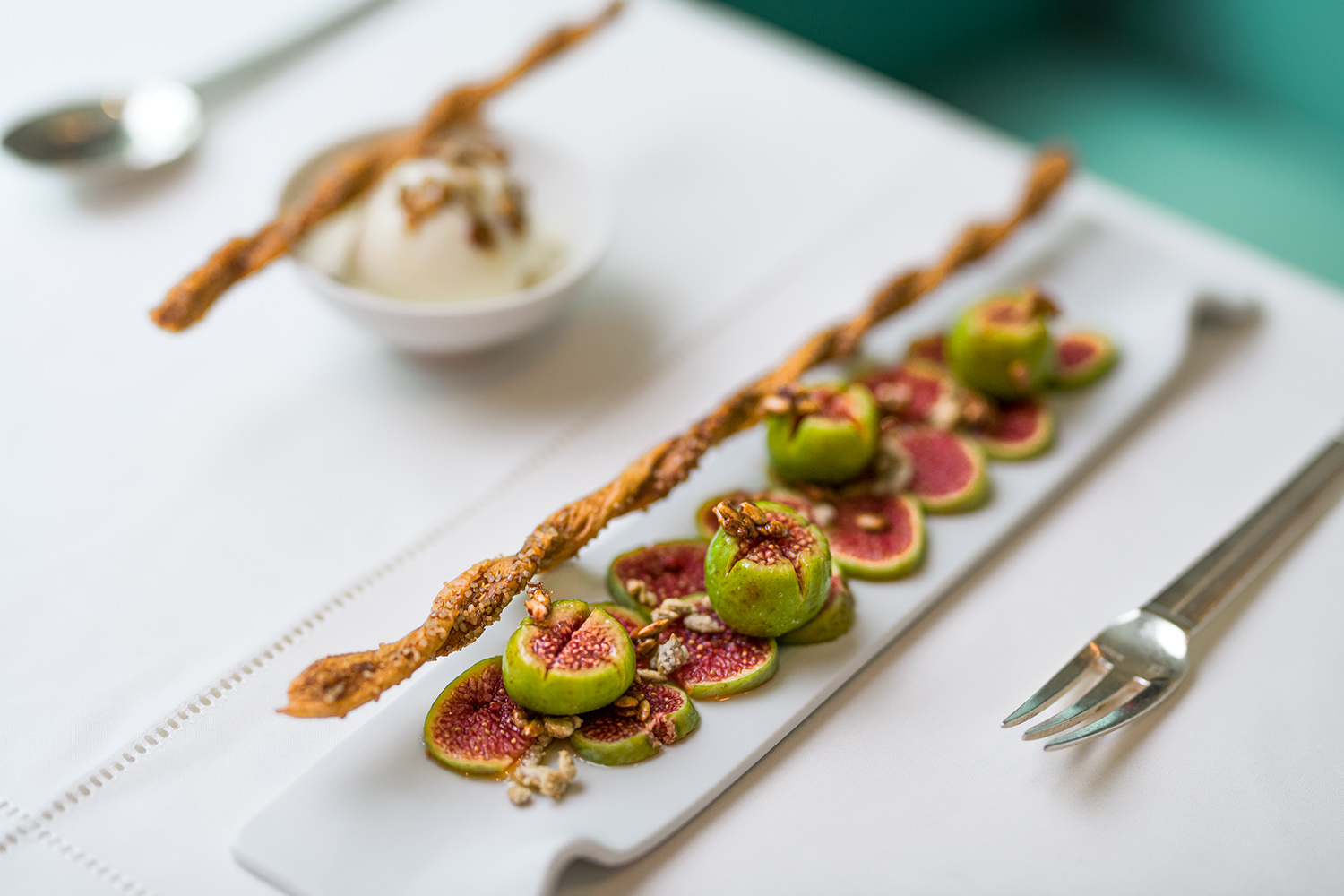 For dessert, Dr. Olivier Courtin-Clarins and Pastry Chef Quentin Lechat pay homage to the red fig, a sweet little pocket of intense flavour. Offered carpaccio-style, glazed with camelina oil; and flash roasted with a hint of chestnut honey, the raw fruit is incredible. To contrast, a scoop of 0% fromage blanc ice cream adds an indulgent hint of freshness to this delicately sugared fruit. The finishing touch, a few toasted sunflower seeds and a flaky pastry lattice add crunch and volume.
A balanced, satisfying menu, in total harmony, where the products pay homage to the sea and orchard fruits. A delicious way to get your omega 3 and fibre.
Information & Reservation:
Available at Le Bar Long
Everyday from 12pm to 6pm
Main course, dessert and detox juice at €72
Email: paris@raffles.com
Phone: +33 (0)1 42 99 88 00