News: Joyeux Noël & Happy New Year ! Exclusive Messika Collaboration and Festive Celebrations
The most Parisian Palace unveils an enchanting winter wonderland and festive programming for the upcoming holiday season
 Messika x Le Royal Monceau – Raffles Paris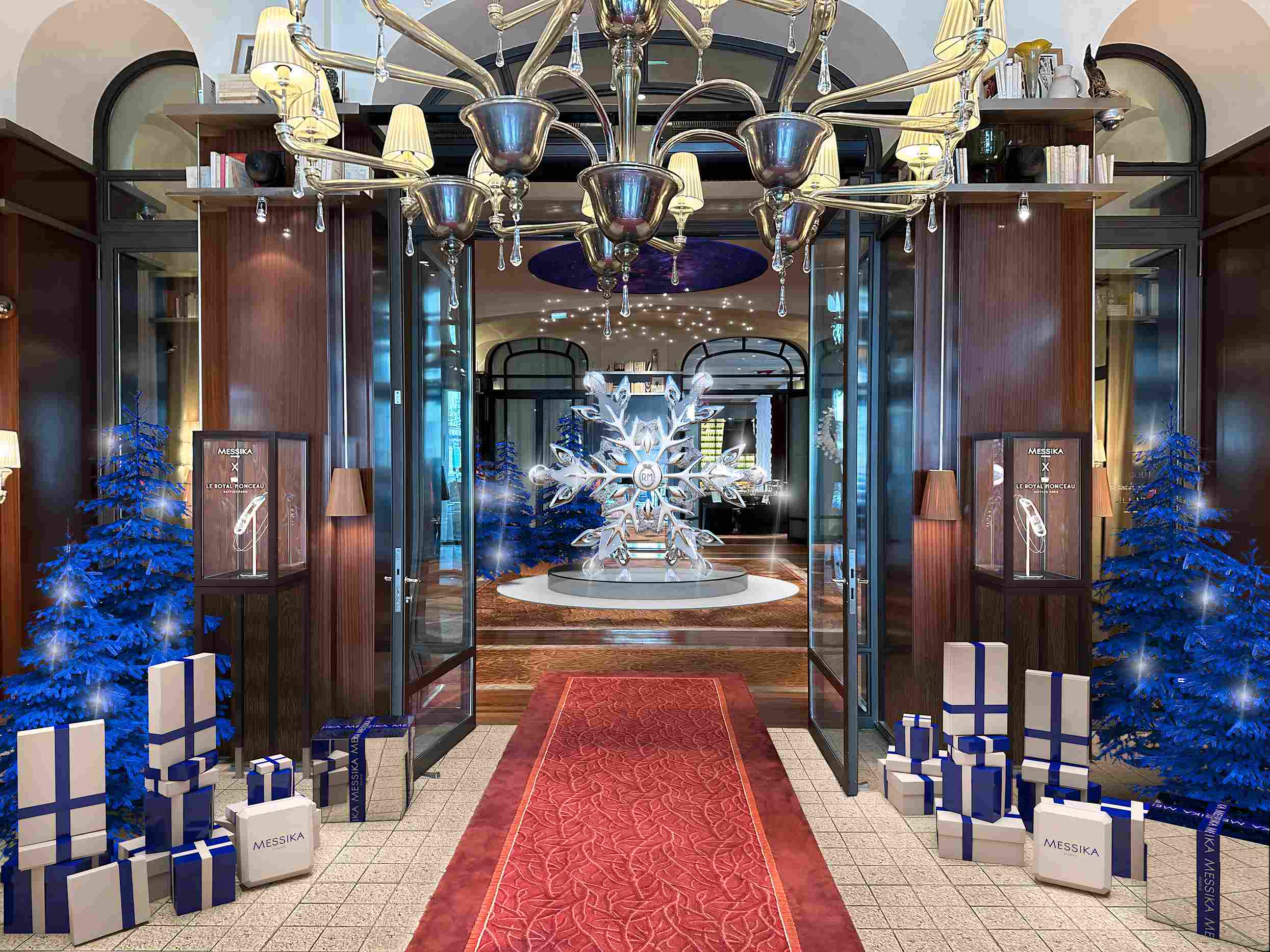 For the end of the year, Le Royal Monceau – Raffles Paris will be transformed into a fairytale setting in collaboration with the prestigious jewellery brand Messika. The common areas of the Parisian Palace will be lit up with the sparkle of diamonds, transporting visitors into a magical world where the warmth of the festivities mixes with the brilliance of Messika jewellery. The Cosmic artwork RoMy, a 2.20 metre high sparkling snowflake, takes pride of place in the Lobby, surrounded by majestic blue flocked fir Chrsitmas trees, as well as in the centre of the terrace pool. This extraordinary collaboration adds a sparkling dimension to the magic of Christmas, inviting visitors to immerse themselves in a world of wonder and luxury, where every detail contributes to an unforgettable atmosphere.
The Gourmet Yule Log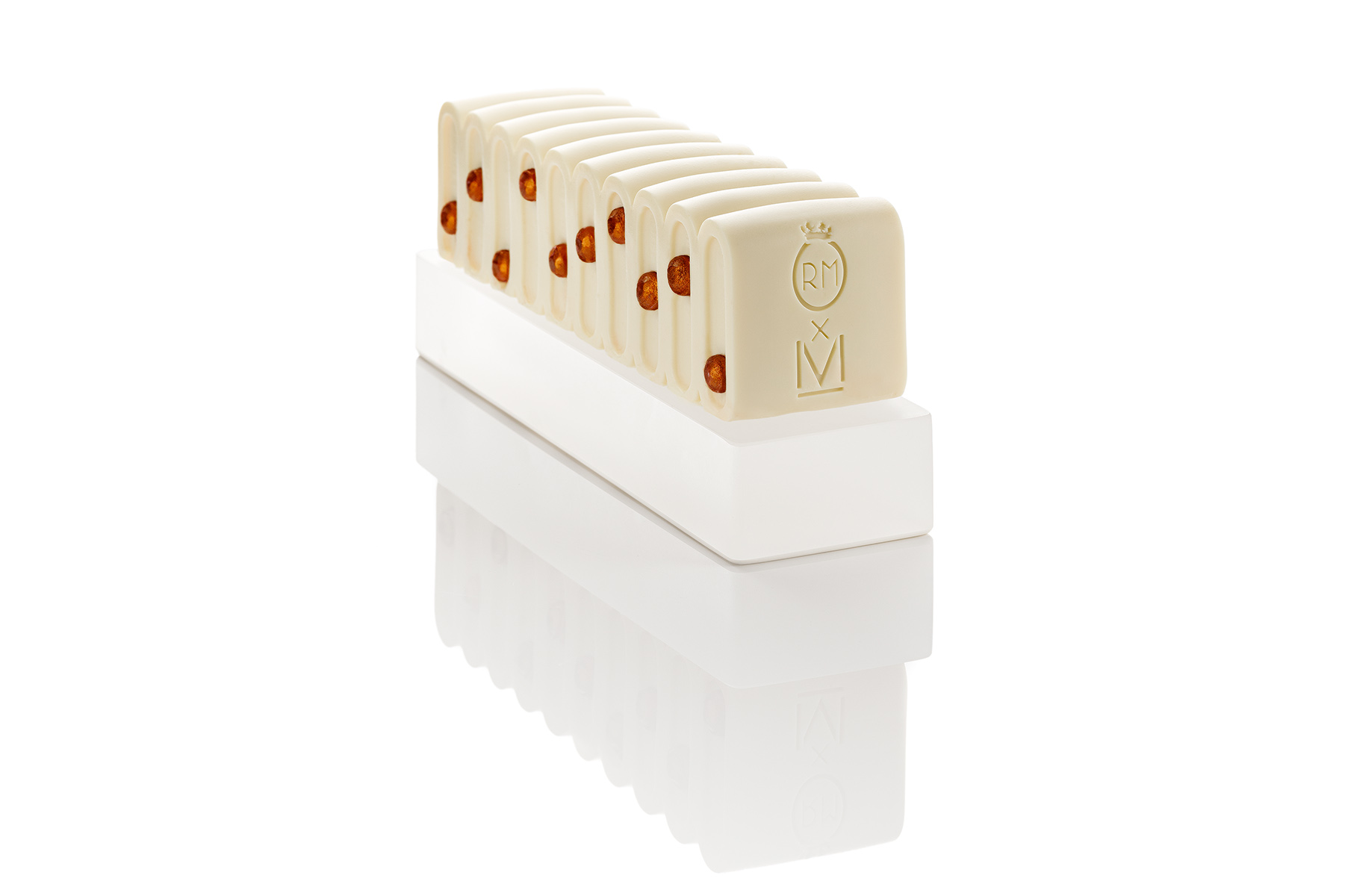 To crown a festive meal or simply to treat yourself, Le Royal Monceau – Raffles Paris offers an exquisite Vanilla Yule Log, meticulously created by talented pastry chef Quentin Lechat. Representing Messika's iconic Move collection, this delicious log is the embodiment of taste and tradition, bringing a touch of sweetness and unparalleled elegance to the festive season.
The log will be available via click and collect from 25 November 2023 for collection between 18 and 26 December 2023.
Log for 10 people
Price: 110€
An Exceptional Gastronomic Feast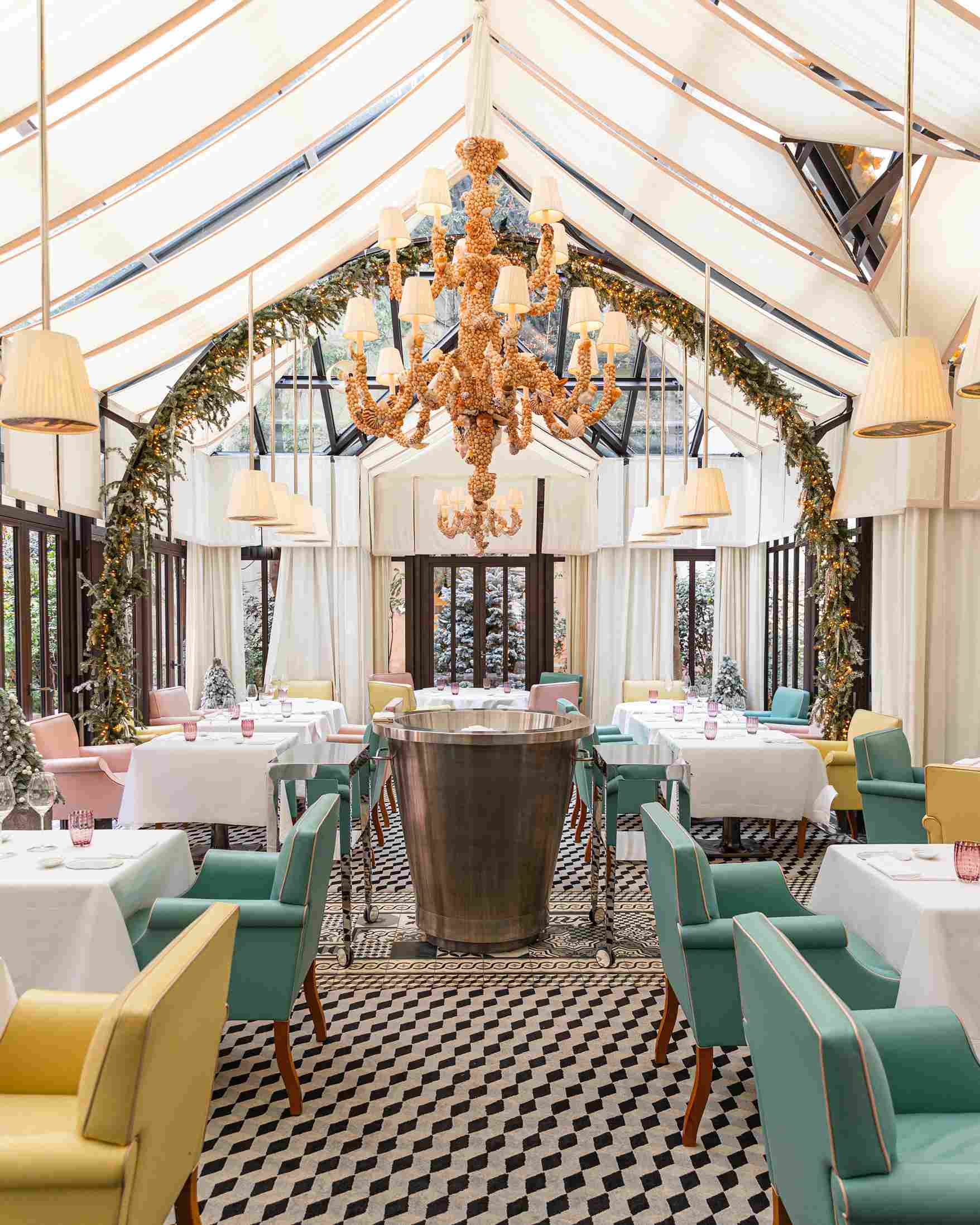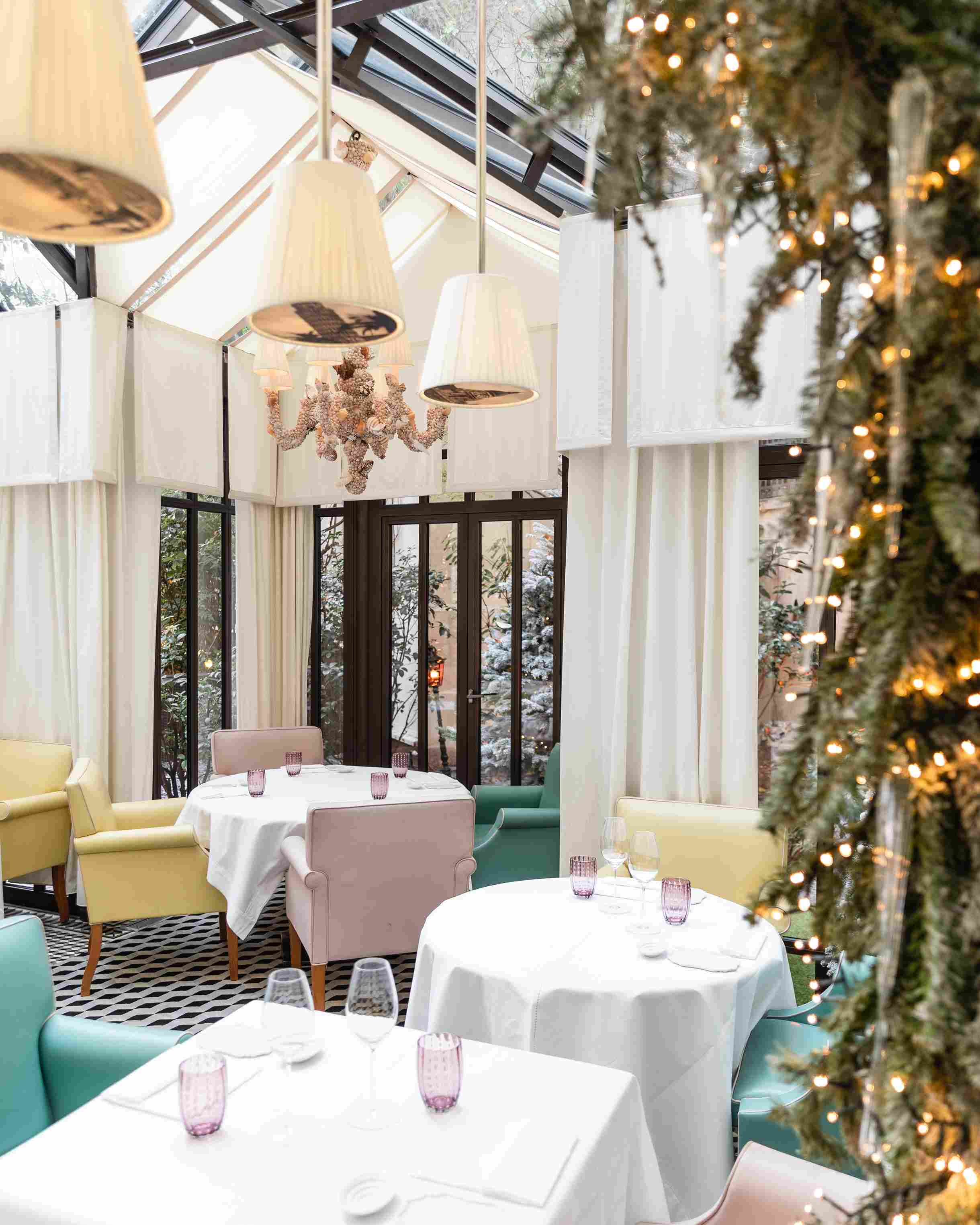 The Palace offers an unrivalled dining experience thanks to a series of highlights during the month of December, with special dishes offered each week to cater for all tastes and special menus on the days of the festivities.
Christmas Menu by Chefs Alessandra Del Favero et Oliver Piras (Sunday 24 December 2023)

The festivities at Il Carpaccio begin with a delicious carne cruda with onion confit, robiola fondue and white truffle, which will awaken your taste buds with exquisite flavours. Next comes a delicate cappelletto in brodo, followed by a truffle-stuffed capon, offering a harmonious blend of textures and flavours. A tangerine raviole adds a touch of freshness to this feast, while the dessert, an iced chocolate parfait, topped with a chocolate sauce with Christmas spices and accompanied by panettone ice cream, rounds off the meal in style (€550 per person). Discover the menu.
Book here
Christmas Menu by Chef Emanuele Bombardier (Sunday 24 December 2023 et Monday 25 December 2023)
Chef Emanuele Bombardier has created a special menu for the occasion at Matsuhisa Paris restaurant for €400 per person, available in addition to the regular menu on Sunday 24 December 2023 and Monday 25 December 2023. This Christmas menu subtly blends the flavours of Japanese and Peruvian cuisine with delicate dishes such as Matsuhisa Vegetable Temaki, O-Toro Sashimi with Beetroot and Caviar Vinaigrette and Grilled Miyasaki a-5 Wagyu, followed by a sumptuous dessert. Special recipes celebrating the fusion of tradition and innovation will also be offered throughout December. Discover the menu.
Book here
Christmas dishes by Chef Norihisa Semboshi (all December long)
Throughout December, Le Bar Long offers a selection of festive dishes. As the weeks go by, the magic of Christmas is brought to your plate for an unforgettable tasting experience. To please every palate, the Royal Bun with truffle makes its debut on the evening tapas menu, a dish in which truffle, the queen of flavours, sublimates every bite. Discover the menu.
Book here
Christmas Brunch (Monday 25 December 2023)
To extend the festive spirit, Le Royal Monceau – Raffles Paris invites you to discover the magic of Christmas with your loved ones at La Cuisine restaurant for a special brunch on Monday 25 December 2023. The delicious buffet will feature emblematic Christmas dishes in a warm and elegant setting.
Book here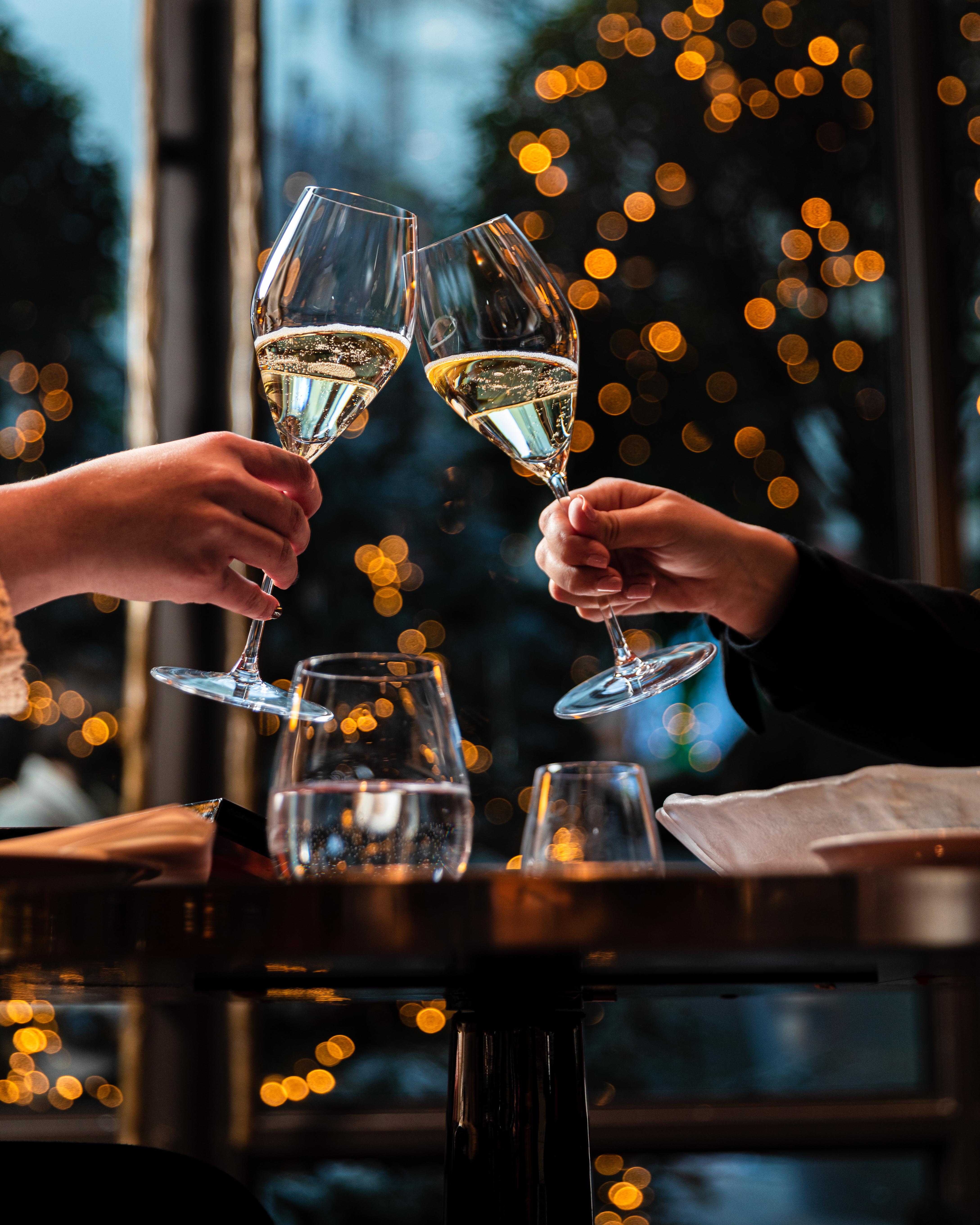 Royal Celebration!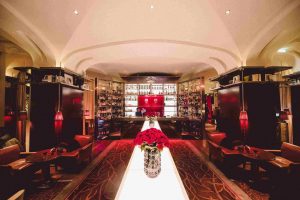 New Year's Eve promises a luxurious gala dinner orchestrated with refinement.
The event begins with a welcome for guests at Le Bar Long, with a Champagne glass, accompanied by music provided by a live band.
The evening unfolds around a special "10 hands" menu, an exceptional creation by all the Palace's Chefs combining their talents to offer a memorable meal.
As the night progresses, guests gather in Le Bar Long for the New Year countdown, where sparkling bubbles and smiles radiate.
As the year 2024 rolls around, the dance floor comes alive to extend the celebration into the night.
And for those who want a gentle start to the new year, the day after New Year's Eve, an exceptional brunch is offered at the La Cuisine restaurant, where quality festive products are skilfully prepared to delight guests.
Discover the experience here
Want to extend the magic of this celebration? Enjoy a complete and magical package with our Royal Celebration offer!
Information & Reservation:
Email: paris@raffles.com
Phone: +33 (0) 1 42 99 88 00