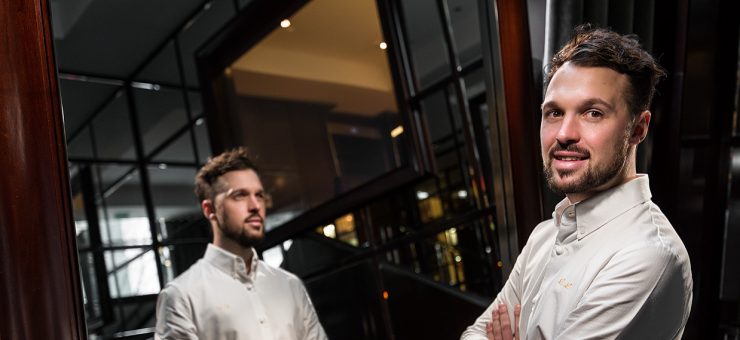 News: Valentine's Day by Quentin Lechat
Our new Pastry Chef Quentin Lechat, celebrates Valentine's Day while unveiling his dessert "Pomelo've"
The Pastry Chef, Quentin Lechat debutes at Le Royal Monceau – Raffles Paris.
A LUCKY DREAM BEFORE THE REOPENING
For Christophe Thomas, General Manager at Le Royal Monceau – Raffles Paris, "pastry in gastronomy reflects the mood and is accessible to everyone." With that in mind, he just welcomed a talented and young Pastry Chef, Quentin Lechat, who is the winner of the "Grand Prix de la Pâtisserie" in 2019, awarded by the City of Paris. "The DNA of Le Royal Monceau – Raffles Paris for the last ten years has been to break the rules, to bring modernity through the lens of fresh talent while respecting the integrity of the Palace and its traditions. "After elevating the experience of the Italian restaurant, Il Carpaccio, in connection with the three Michelin star, Da Vittorio, from Bergamo, revamped the Bar Long and strenghtened the Matsuhisa Paris (and celebrated Chef Nobu), Christophe THOMAS and team will offer guests an opportunity to taste an exclusive creation designed for the Valentine's Day by Quentin Lechat. Pomelo've will be available for take-away during February 10 to 15, 2021.
AVAILABLE TO CLICK AND COLLECT, HIS CREATION, "POMELO'VE", FOR VALENTINE'S DAY
Quentin's creation will reasonably be heart-shaped for this special occasion. We will find his favorite element: the citrus fruits present here in the form of pink grapefruit. It is accompanied by a tasty dance where almond powder, candied ginger (in a nod to Matsuhisa), pomegranate seeds and rosehip (for the floral freshness) are mixed together. The whole creation is flocked with red thanks to the raspberry powder.
Information:
Click & Collect from February 10 to 15, pre-orders are available
Press Release, for more information
Email: bookus.paris@raffles.com
Tel: +33 (0)1 42 99 88 00
Veuillez pivoter votre périphérique
Fermer
Book a movie
The movie projections are held every Sunday.
Sitting at 6:00pm, film at 6:30pm.
*Mandatory fields